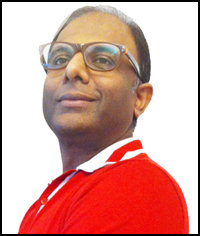 Co-founder and Mentor
Wedded to the dream of empowering educational institutions, processes and resources to guarantee overall development of every child, without exception and globally, he remains hyper excited about the unprecedented opportunity of living in a world of 7 billion truly educated people!

He is a unique school educational reformist having developed interventions for the entire spectrum of school education issues such as books on education; careers; author of world's first concept-based curricular books of math, science, social sciences; school leadership and teacher trainings; parent workshops; technology.

Educated at the best institution in India and abroad (Jadavpur, IIT D, INSEAD) andhaving worked with best corporates in India and abroad (IMT G, Olivetti, ModiCorp, Citibank), Sandeep is among the pioneering few in the world and the first Indian to pen a book about Internet before the first dotcom burst, 2000, ('Embracing the Net', Financial Times, UK) and subsequently wrote the world's first book on e-governance (Government@Net, 2001, Sage, India) and coined 'innovation as strategy' in the book 'The bright stuff' (Prentice Hall, USA, 2002).

He leads a rather 'unconventional' life and a highly inspiring communicator. He is seeding alternate political movement, including electoral politics, focused exclusively on universal quality education, world-class community health, micro-enterprise and environment.